GLADHANDER 2020: HOEDOWN OR HOOTENANNY!
Our annual fundraiser, Gladhander, will take place on October 24, 2020. This year, two versions are being planned –a "virtual" option and a limited attendance*, in-person event. Here's what's new and exciting about this year's event.
New venue – The in-person Gladhander, or "Hoedown", will take place at a brand-new venue: Immaculate Conception Elementary School.* There, you can experience a casual country Hoedown amidst fellow supporters. Cost is $150 per person which includes a powerful show, great food and drinks.
New, at-home Hootenanny option – Due to current health concerns, we've created a special at-home version of the Hoedown called a "Hootenanny." Round up your posse of close friends or family members, and host a mini-Gladhander – complete with table decorations, great food, and a streaming version of our annual Gladhander show – at your venue. Cost is $75 per person.
Early bird bidding – Check out our online auction system with a limited selection of items for early bird bidding, September 28-October 2.
Anyone can browse and bid – New this year, anyone (from anywhere) can browse and bid on our fabulous auction items. Invite your out-of-town family and friends to shop, provided you can facilitate delivery. There is no cost to register: www.one.bidpal.net/Gladhander.
Bidding online for two weeks prior! Our new online auction platform makes bidding easy! We will finalize our selections on or about October 12, and you will have until October 24 to shop and bid.
New raffle Grand Prizes – This year's grand prize winner may choose from a 2020 JEEP® Gladiator Sport arranged by Bill Marsh Auto; or a 2021 REGAL 1900 ES Bowrider arranged by Grand Bay Marine; or $32,000 in cash!
James (Jim) Beckett Raffle Challenge – In honor of the legendary Jim Beckett, who passed away this year, we are issuing a special challenge to DOUBLE your normal Gladhander raffle ticket purchase (Jim was famous for the phrase, "Give 'em two!")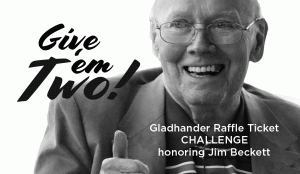 *Dependent on COVID-19 restrictions in effect at the time of the event.
---
REGISTRATION
Online registration opens soon. Please check back.


---
OUR RAFFLE
LICENSE # C29626
PURCHASE A GLADHANDER RAFFLE TICKET, and get your chance to win a new JEEP Gladiator Sport, REGAL Bowrider or $32,000 in cash
Ten (10) additional cash prizes from $500-$1,000 will be drawn
Ticket price is $125 each or two for $200 or three for $250
Proceeds benefit Grand Traverse Area Catholic Schools
Purchase early to be in the Early Bird Drawing on October 2 for an additional chance for $500
Final drawing will be held on Auction Night, October 24, 2020
Mail check payable Gladhander to GTACS, 123 E. 11th Street, Traverse City, MI 49684
Your actual ticket and purchase confirmation will be mailed to you
Payment may also be made by credit card (call 231 941-GLAD)
You need not be present to win

 
---