It's our 40th year, and Gladhander is bigger and better than ever!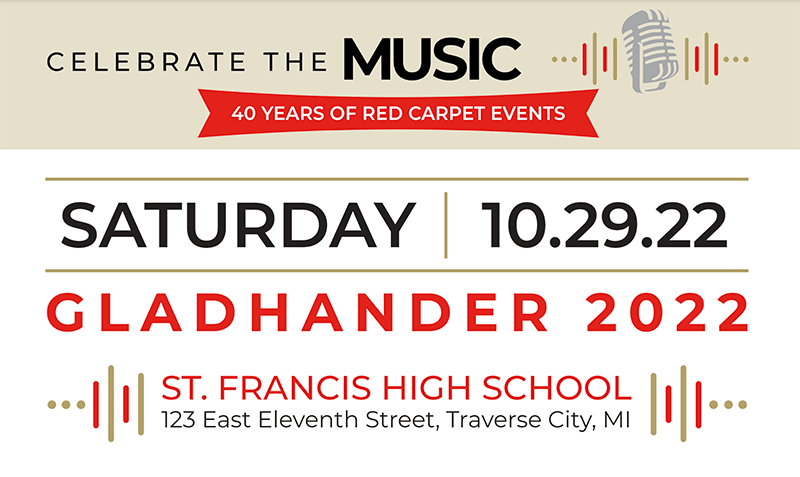 ---
More options – attend and bid on exclusive items in person OR bid on items online
More raffle ticket prices – purchase tickets for as low as $75 (for 40 tickets purchased in one transaction)
More excitement – we are "celebrating the music" with one-of-a-kind experiences and items
More reasons – our need for scholarship support is incredibly important as our schools' enrollment grows!
---
LIVE AUCTION AND GALA
Gladhander 2022, Celebrate the Music, will take place on Saturday, October 29, 2022, in the St. Francis High School Gym. Attendance will be limited, and a sell-out crowd is anticipated.
5:00 pm Refreshments and hors d' oeuvres
7:00 pm Dinner
7:30 pm Program 
Fun and Games
Live Auction
Music and Dancing with the Broom Closet Boys*
---
ONLINE BIDDING
Thanks to online bidding, the auction's reach now extends to friends, families, and supporters throughout the country.
Visit our Auction at www.one.bidpal.net/gladhander
---
OUR LEGENDARY RAFFLE (LICENSE #C30525)
Top prize is a choice of a 2022 JEEP® Gladiator 4 x 4 arranged by Bill Marsh Auto; or a 2023 STARCRAFT deckboat arranged by Grand Bay Marine; or $35,000 in cash! Eleven (11) additional cash prizes will be drawn: Six (6) for $500 and four (4) for $1000 – plus the Early Bird Drawing for $500.
TICKET PRICES & DRAWING INFORMATION
Ticket prices are (1) for $125; (2) for $200; (3) for $250. Join the "40 Club" and purchase 40 tickets for $3,000*. Grand Prize drawing will be held on October 29, 2022 at 9:00 pm and the Early Bird Drawing will be held on October 8, 2022, during half-time of the football game – both at St. Francis High School. 
---
---
PREVIEW NIGHT
Can't make it to Gladhander this year, but don't want to miss out on the festive atmosphere? Come to Preview Night on Friday evening where you can enjoy complimentary refreshments and fellowship amidst the fabulous décor!
---
PAST GLADHANDER THEMES
1983 Circus
1984 Putting on the Ritz
1985 Set Sail
1986 The Orient
1987 Southern Elegance
1988 Mardi Gras
1989 A Crystal Affair
1990 Fiesta Ole
1991 Under the Sea
1992 Castles and Crowns
1993 Hooray for Hollywood
1994 Into the Arabesque
1995 Victorian Splendor
1996 On the Wild Side
1997 When in Rome
1998 C'est Magnifique
1999 Jewel of the Nile
2000 Steppin' Out
2001 Russian Rhapsody
2002 Circus Circus
2003 An Enchanted Evening
2004 La Dolce Vita
2005 Ramblin' on Route 66
2006 All the World's a Stage
2007 A Silver Celebration
2008 Erin Go Bragh
2009 Fun & Games
2010 Music of Motown
2011 Seuss on the Loose
2012 80s Rewind
2013 Extravaganza Earth
2014 'Tis A Classic
2015 New York, New York
2016 Sea to Shining Sea
2017 Remember the Wonder
2018 Around The World
2019 There's No Place Like Home
2020 Hoedown or Hootenanny
2021 Off to the Races
---
PAST GLADHANDER CHAIRS
Jim Beckett – Emeritus
Ken Kleinrichert, Sr.
Tom McIntyre
Paul Schmuckal
Tom Gartland
Pat Heintz
Pat Brady
Sheila McIntyre
Doug Shaw
Russ Spranger
Carolyn Vaughan
Al Zelinski
Nancy Brick
Mike & Maggie Kent
Pete & Kim Schmitz
Bill & Debbie Marsh
Dave & Amy Pax
Doug & Maureen DeYoung
John & Robin Ehardt
Dale & Janet Troppman
Mike & Katie Bobrowski
About the Broom Closet Boys, via the Record-Eagle: The power trio — founded the day after Christmas in 2011 — is known for its covers of popular tunes from across the decades by artists ranging from Queen to the Backstreet Boys, Tom Petty to the Red Hot Chili Peppers, and Steely Dan to Lionel Richie.