Secure Payment Option
Secure Payment Option
Secure Payment Option
Thank you for completing your Gladhander purchase via our secure payment form. If you prefer to send a check, please make it payable to GTACS with the reason for your payment in the memo line and send to GTACS, 123 E. 11th Street, Traverse City, MI 49684.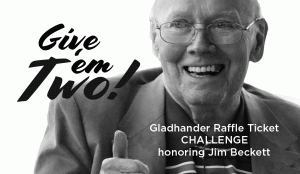 During his lifetime, James ("Jim" 1922-2020) Beckett sold more than 3,300 Gladhander raffle tickets. When making ticket sales calls, he would scarcely take "no" for an answer.
Jim had a passion for helping others – especially kids.  He cared deeply about education and he loved our community – and almighty God – greatly. With Jim's passing earlier this year, it marked the end of an era for our schools. But Jim's drive for helping others continues on.
Take the Jim Bucket challenge and DOUBLE your normal purchase (Jim was famous for the phrase, "Give 'em two!")